You are here:
Home
/
Annual Distinguished Lecture
Annual Distinguished Lecture
"

David Simon: The Audacity of Despair

"

Distinguished Lecture
February 5, 2016 
DAVID SIMON
DAVID SIMON is a Baltimore-based journalist, author and television producer. Born in Washington, he came to Baltimore in 1983 to work as a crime reporter at The Baltimore Sun. While at the paper, he reported and wrote two works of narrative nonfiction, Homicide: A Year On The Killing Streets and The Corner: A Year in the Life of an Inner-City Neighborhood, the former an account of a year spent with the city homicide squad and the latter, a year spent on a West Baltimore drug corner.
Homicide became the basis for the NBC drama, which aired from 1993 to 1999 and for which Simon worked as a writer and producer after leaving The Sun in 1995. The Corner became an HBO miniseries and won three Emmy Awards in 2000. The Wire, a subsequent HBO drama, aired from 2002 to 2008 and depicted a dystrophic American city contending with a fraudulent drug war, the loss of its industrial base, political and educational systems incapable of reform and a media culture oblivious to all of the above.
Simon served as a writer and executive producer of HBO's Generation Kill, a miniseries depicting U.S. Marines in the early days of the Iraq conflict. Simon also co-created the HBO series Treme, following life in New Orleans after Hurricane Katrina. Treme was nominated for two Emmys, Outstanding Writing in a Miniseries and Outstanding Miniseries. Simon's most recent project, the HBO miniseries Show Me a Hero, tells the story of Yonkers Mayor Nick Wasicsko who finds himself thrust into racial controversy when a federal court orders to build a small number of low-income housing units in the white neighborhoods. Simon also does prose work for The New Yorker, Esquire and The Washington Post, among other publications.
THE LUSKIN LECTURE SERIES
The UCLA Luskin Lecture Series enhances public discourse on topics relevant to the betterment of society. The series features renowned public intellectuals, bringing scholars as well as national and local leaders to address society's most pressing problems. Lectures encourage interactive, lively discourse across traditional divides between the worlds of research, policy and practice. The series demonstrates UCLA Luskin's commitment to encouraging innovative breakthroughs and creative solutions to formidable policy challenges.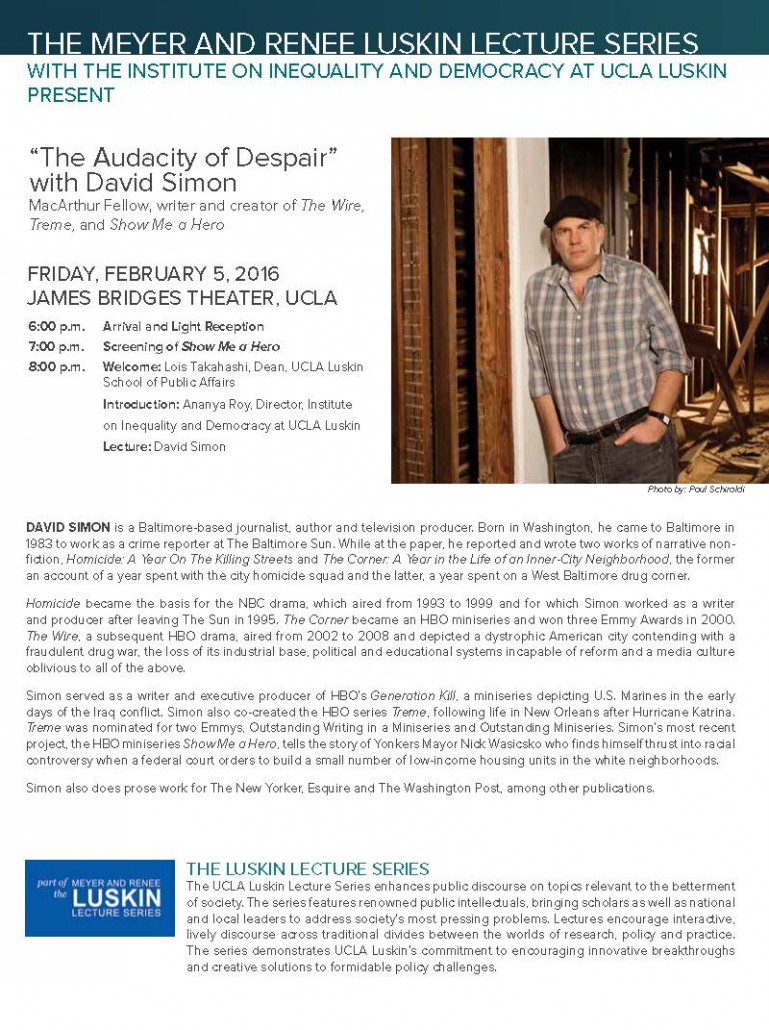 "

John Friedmann: The Ruse of Reason – Poverty, Inequality and Personal Freedoms in the People's Republic of China 1950–2015

"

Distinguished Lecture
April 26, 2016 

JOHN FRIEDMANN
Dr. John Friedmann was Professor Emeritus in the School of Public Affairs at UCLA and Honorary Professor in the School of Community and Regional Planning at UBC. He was founding professor of the Program for Urban Planning in the Graduate School of Architecture and Planning at UCLA, and at various times between 1969 and 1996 served as its head for a total of 14 years.
Before giving his Distinguished Lecture, Friedmann sat for a video interview and was asked about the evolution of urban planning at UCLA.
"The vision that I had was that planning was not just a profession," he said. "We had to begin to theorize about planning, to start thinking, what is planning? What should we expect from this social science-based profession that isn't simply urban design or land use planning, but goes far beyond that."
When asked about the connection between planning theory and social justice, Friedmann said, "It's all value-based, so we have to think very carefully about what sort of values we want to further in the world around us and the world in which we interact. The oldest one is social justice and the whole question of equality and inequality and how to have a more egalitarian society that is inclusive of all different modes of living."
At the May 2016 Distinguished Lecture, Director Ananya Roy introduced the prolific author as a "legend in urban planning."
"For those of us who were trained at other urban planning programs, we were raised on the writings of John Friedmann," Roy said. "His scholarship, for example, the analysis of world formation, remains foundational to the ways in which we think about cities and metropolitan regions around the world."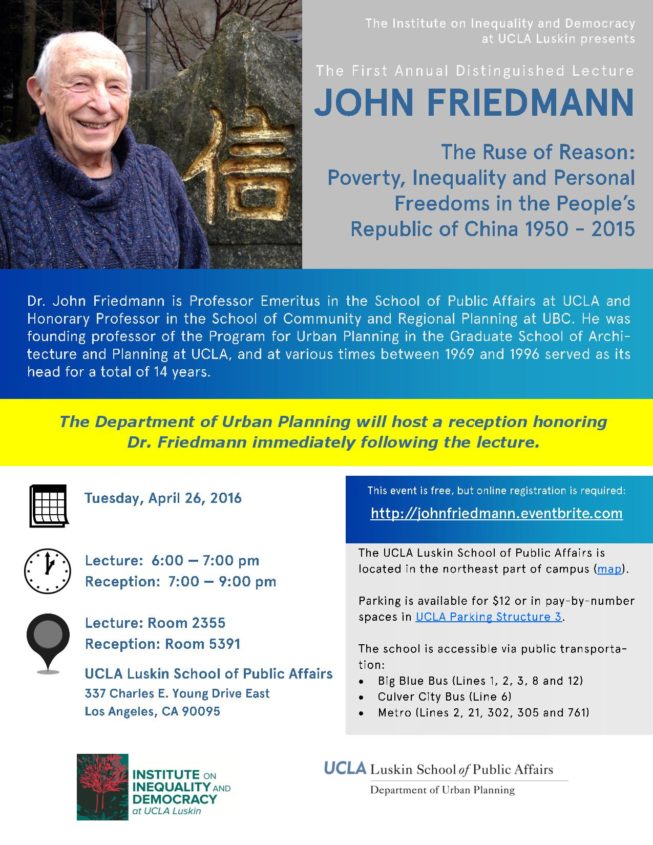 "

Judith Butler: This is What Resistance Looks Like

"

Distinguished Lecture
February 15, 2017 
Guest lecture featuring:
JUDITH BUTLER
Judith Butler is a Maxine Elliot Professor in the Department of Comparative Literature and the Program of Critical Theory at the University of California, Berkeley
About RAVE:
RAVE (Resistance Against Violence Through Education) is a faculty group dedicated to mobilizing the power of knowledge and critical analysis to challenge the normalization of the politics, language, and actions of Donald Trump's presidency. We pledge to take responsibility for, support, and defend vigorously all vulnerable members of our communities who were deliberately targeted in the lead up to the election of Donald Trump, and who are now victims of hate in its wake—members of the community who are undocumented, victims of sexual assault, people of color, LGBTQ people, Muslims and other religious minorities, immigrants, the disabled, and women. We will not silently bear witness but will fight back by producing knowledge, constructing alliances, and building system-wide coalitions across the University of California.