Wealth, Inequality, and Philanthropy
By:

 Ananya Roy, University of California, Los Angeles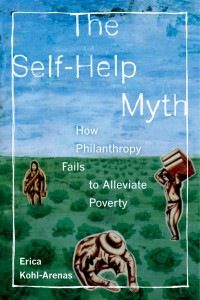 Last year, Inside Philanthropy named Erica Kohl-Arenas its "Philanthropy Critic of the Year" for her book, The Self-Help Myth: How Philanthropy Fails to Alleviate Poverty. The first book in a new series, "Poverty, Interrupted," at the University of California Press and housed at the Institute on Inequality and Democracy at UCLA Luskin, The Self-Help Myth is a powerful analysis of how philanthropy fails to address the structural processes that produce poverty.  Professor Kohl-Arenas's book was our inspiration for a forum on Wealth, Inequality, and Philanthropy held at UCLA in November 2016.  With support from The Workers' Lab, we convened researchers, foundation CEOs, program officers, donors, and social movement leaders, to consider the role of philanthropy in social change.
Many years ago, commenting on the Ford Foundation's role in launching community development programs in U.S. cities, Daniel Patrick Moynihan, senator, sociologist, and a key figure in national policy, expressed concern about "a social invention of enormous power," the "invention of a new level of American government," by "a private, tax-free organization, responsible to none but its own wishes." Similar debates prevail today about philanthropy. At our forum, we thus asked what it means for private wealth, sheltered from taxation, to be deployed for public benefit, including the task of mitigating inequality. But we were also struck by what one participant described as "the hunger for transformative organizing" within the world of philanthropy.  Our presentations and conversations explored models of grantmaking that break with conventional formats, be it the 5% payout rule or the organizational structure of the non-profit industrial complex or the hierarchical relationship between donor and grantee. There is clearly much more work to done on these fronts.