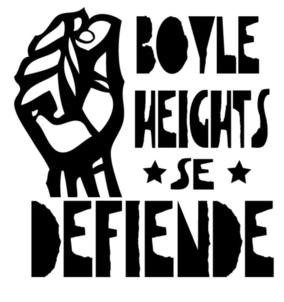 The graduate student working group connected with community groups as UCLA students and worked on building connections for a project-based course that allows a longer-term commitment from UCLA to support anti-gentrification and anti-displacement work.
They have reached out to organizations like Union de Vecinos, Chinatown Community for Equitable Development.
Our Hoods, Our Stories Working Group attended community town hall meetings to learn what issues community members are facing.
They created a list of readings and a syllabus for a class on gentrification; its effects on community members and local economies; and policies that can either mitigate or exacerbate conditions of gentrification.
Their intention is for this to begin as a student-led and student-taught course, but will look for a faculty sponsor for the class to continue to inspire further research and action in the field of displacement.
Students hosted Gente Sí, Gentrify No: Resisting Displacement in Boyle Heights with the organizations they have connected with

Activists, residents, and community members came together to discuss the struggle against gentrification and displacement in Boyle Heights. Boyle Heights is at the epicenter of a spatially contested struggle for shelter in the midst of Los Angeles' crisis of housing affordability. This renewed interest in the neighborhood comes after decades of disinvestment, racial discrimination, and substandard employment opportunities for its long-term residents. As a historic entry point for Mexican immigrants into the country, gentrification in Boyle Heights has not only taken a toll on the neighborhood's most vulnerable populations, but it has eroded the vital social and cultural institutions of self-determination. 

But the threat of displacement has also inspired a rigorous and thriving social movement. In a moderated discussion, panelists explored the realities of gentrification and the organizing that has emerged as a response to provide context to the debate about gentrification in the neighborhood, and similar debates taking place across Los Angeles.
By: Eve Bachrach, Gina Charusombat, Amman Desai, Julia Heidelman, Lawrence Lan, Jacklyn Oh, Xochitl Ortiz, Carolyn Vera, and Estefania Zavala Urban Planning and Asian American Studies.
https://challengeinequality.luskin.ucla.edu/wp-content/uploads/sites/16/2017/04/Gente-si-Gentrify-NO-4.jpg
302
284
cbarrera
http://challengeinequality.luskin.ucla.edu/wp-content/uploads/sites/16/2018/11/IID-logo-stack.png
cbarrera
2017-09-19 12:52:55
2017-09-19 12:52:55
Our Hoods, Our Stories: Documenting Displacement in Boyle Heights and Chinatown