"At a cost quickly approaching $1 billion annually, more than 17,000 people are incarcerated every night in county jails and city lockups. But not every neighborhood within Los Angeles is equally impacted by L.A.'s massive jail system." Million Dollar Hoods is an ongoing research project that is mapping the neighborhoods where the Los Angeles County Sheriff's Department (LASD) and the Los Angeles Police Department (LAPD) spent the most on incarceration between 2010 to 2015.
YJC in collaboration with the Undercommons will identify target areas for investigation using data from the Million Dollar Blocks project. After training YJC researchers in oral interviews, photography, and videography, researchers will collect interviews and produce videos and photos of impacted communities. The media will then be integrated into the Million Dollar Block maps.
million-dollar-blocks-map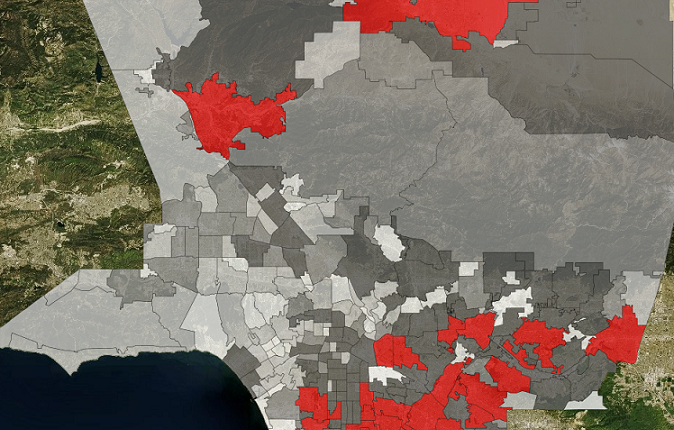 Enter the "Million Dollar Hoods" Map Room to learn how L.A.'s nearly billion-dollar jail budget is largely committed to incarcerating many people from just a few neighborhoods. The first layer of the map, which is currently displayed, highlights in red all communities where the LASD spent at least $1 million annually to jail residents, amounting to a minimum $6 million investment in incarceration over the study's six-year period. The millions of dollars committed to incarceration in these neighborhoods makes them "Million Dollar Hoods." In some Million Dollar Hoods, such as Lancaster, Palmdale, and Compton, LASD has spent tens of millions of dollars since 2010.
The second layer to this map will highlight where the LAPD spent at least $1 million annually to jail residents between 2010 to 2015. The LAPD map is not currently displayed, but it will soon be added as soon as it becomes available.
Sign up for the @milliondlrhoods Twitter feed or subscribe to the Million Dollar Hoods Blog to receive notification when the LAPD map is posted and other updates from the Million Dollar Hoods Research Project.
KCRW (89.9 FM): Off the Block series
By: Kelly Lytle Hernandez, UCLA Departments of History and African American Studies; Youth Justice Coalition (YJC); Marques Vestal, doctoral student, UCLA, Department of History and the Undercommons at UCLA
https://challengeinequality.luskin.ucla.edu/wp-content/uploads/sites/16/2017/05/Lancaster-1.png
954
1849
cbarrera
https://challengeinequality.luskin.ucla.edu/wp-content/uploads/sites/16/2020/05/IID_LOCK_UP_BLACK_RED.png
cbarrera
2017-09-20 11:05:14
2018-09-06 16:43:21
Community Experiences on Million-Dollar Blocks in Los Angeles