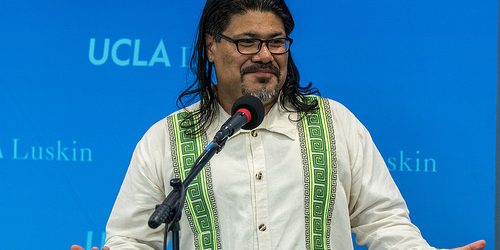 50 Years After the Chicano Blowouts
Still Waiting for Justice and the Need to Reject More Police in our Schools
Manuel Criollo, the 2018 UCLA Activist-in-Residence at the Institute, is currently, a PhD candidate in American Studies at the University of New Mexico in Albuquerque, New Mexico; his interest are social movements, multiracial and multiethnic solidarity and organizing and socialist reconstruction with a focus on late 1970s and early 1980s community and labor insurgencies. He has been assigned to coordinate the UNM Peace and Justice Studies Minor and Certificate Program. Manuel Criollo worked close to 20 years at the Labor/Community Strategy Center and guided its flagship projects the Bus Riders Union and the Community Rights Campaign. Son of immigrants from El Salvador, Manuel grew up in Pico Union and South LA.
During Manuel's 2018 residency with our Institute, he did critical research and popular education projects on the origins of school policing in Los Angeles and beyond. He held a two-day organizer exchange with organizers and activists from around the country that are opening new organizing terrains to remove police from schools. He co-hosted with Youthink a one day youth political education workshop on the history of the 1968 Chicana/o Walkouts and the late 1960's Black Student Strikes in Los Angeles. During his residency period, Manuel gave over a dozen lectures, classroom presentations and talks and worked with student organizations like the Underground Scholars. Manuel wrote the following op-ed piece published by the Los Angeles School Report on the legacy of policing and the Chicana/o Walkouts at Los Angeles Unified School District and plans to publish a longer piece on his research on youth and community organizing efforts to challenge police presence in schools in Los Angeles over the past 50 years.
Read >> The Op-Ed Article via LA School Report by 2018 UCLA Activist-in-Residence Manuel Criollo
---
Author:
Manuel Criollo, a community organizer for over 20 years, is the 2018 UCLA Activist-in-Residence with the Institute on Inequality and Democracy at UCLA Luskin, writing on the history of policing and resistance movements in LA schools.